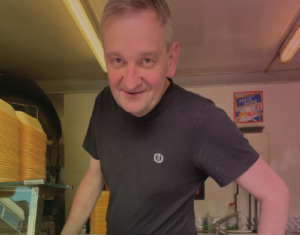 Mark Garamszegi is a well-known face in Kidderminster. His jacket potato stand has been in the town since the 1980s and some of his customers have been coming to him for over 30 years.
'I look after them,' said Mark, who is now 56. 'If you look after your customers they always come back.'
Mark's day starts around 6.30am. That's when he begins setting up his mobile catering unit. The first customers arrive around 9am. Mark knows most of them and he knows what they want too. Cheese and beans and cheese and curry are amongst the most popular fillings.
Mark's customers include staff in offices and shops in the town. 'I do some passing trade but most of it is regular business,' he said. 'A lot of my customers have become friends. I have seen some customers grow up from being in the pushchair to becoming adults.'
Mark said the time has gone quickly. 'You meet different people every day. It's my living and I enjoy it,' he said.
'Kidderminster is a good town. The people are nice and friendly.'
Mark's jacket potato stand is usually open Monday to Friday. When he is not at work, he enjoys gardening.