A Very Special Christmas in Kidderminster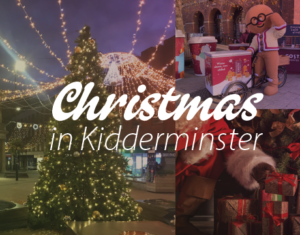 There will be plenty of sparkly festive fun in Kidderminster this Christmas.
Kidderminster Business Improvement District and Kidderminster Town Council have joined forces to make sure there is a huge Christmas tree in the town centre this year. The lights for the tree were switched on by The Mayor of Kidderminster, Councillor Juliet Smith, on Wednesday November 24th.
Kidderminster BID has also organised an exciting Christmas scavenger hunt for children. Santa's been flying too low and has crashed his sleigh. Children will be asked to help Santa and Eddie the Elf to find his belongings. See if you can find his sleigh driving licence and his big black boot, amongst other items in the windows of businesses around the town centre. The cheeky elves will also pop up in shop windows. The scavenger hunt will run from Saturday December 11th until Christmas Eve. There will also be an opportunity to 'Take a Selfie with Eddie the Elfie' next to the Christmas tree outside The Swan Centre.
Kidderminster BID Manager Alex Powell said: 'I'm delighted that so many people have worked so hard to make Christmas special in Kidderminster town centre this year. It will be great to bring some festive joy into the lives of local people and attract more visitors into the town.'
Saturday December 11th is going to be a particularly magical day when Kidderminster Town Hall presents 'Christmas at the Town Hall.' Father Christmas will be in his grotto in the Town Hall courtyard. It's a free event and every child will receive a gift from Father Christmas.  Book a slot or turn up on the day for a 'walk-in' meet and greet.  Website: kidderminstertownhall.ticketsolve.com/shows
There will be a traditional music organ outside the Town Hall, along with a Christmas market inside, adding to the festive cheer.  In the afternoon of 11th Dec, a magical elf will also be roaming the streets handing out balloons and goodies.
Father Christmas will be in Weavers Wharf on Saturday 4th, Saturday 11th and Saturday 18th December.
There's an opportunity to meet the Happyland Father Christmas at The Entertainer in The Swan Centre on December 4th. He will be appearing at 10am and 4pm.
On December 18th there will be festive games, music and freebies in Exchange Place, outside the Town Hall, as part of the Christmas Costa Roadshow.
Students from Holy Trinity School will be singing Christmas Carols at the Museum of Carpet on Saturday December 11th from 11.00-12.00, and the museum will host book signing events on November 27th and December 4th where you will be able to get signed copies of books written by local Wyre Forest authors.
The town centre market will be operating on two additional dates, Tuesday 21st and Wednesday 22nd December (in addition to Thursday 23rd September).
The spotlight will also shine on Kidderminster during the winter period with the Light up Kidderminster trail. The programme runs from November 20th. This is a free illuminated trail around Kidderminster with selfie points located around the town. All you need to do is pick up a map from the Town Hall, Museum of Carpet, Severn Valley Railway or download it from www.kidderminstertownhall.org.uk and you will be on your way.
The annual Christmas gift appeal with Wyre Forest charity Home-Start is once again giving you the chance to bring some seasonal joy to families in need across the district.
The appeal asks members of the community to buy a gift for a local child aged 0-18 whose families are facing difficulties.
If you would like to donate a gift you can drop it off at the Management Suite at The Swan Centre until Sunday December 12th
The KEMP Hospice Tree of Life is in The Swan Centre for you to tie on your memory tags.
Keep up to date with what's happening in Kidderminster this Christmas by looking out for social media posts from Kidderminster Business Improvement District, Kidderminster Town Council and Kidderminster Town Hall.