Creating a Safe and Secure Town Centre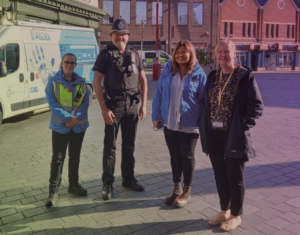 Creating a safe and secure town centre is one of the top priorities at Kidderminster Business Improvement District. The BID is working in partnership with West Mercia Police to take the first steps towards the prestigious Purple Flag accreditation.
Purple Flag's aims are to raise the standard and broaden the appeal of town and city centres at night. The award is the benchmark for good night-time destinations.
Town and city centres that achieve a Purple Flag are those that are safe, diverse, vibrant, appealing, well-managed and offer a positive experience to customers.
Kidderminster BID Manager Alex Powell said: 'It's important to make sure Kidderminster is safe and secure.
'Visitors to the town centre deserve a safe well managed town by night and our businesses deserve to have everything they need in place to ensure they thrive.
'We have some fantastic local venues, and we want to do all we can to support them.'
Purple Flag is managed by the Association of Town Centre Management in partnership with central and local government, the police, professional groups, business, industry, and consumers.
Kidderminster Business Improvement District is also supporting a new Pubwatch in the town. The key aim of Pubwatch is to help achieve a safe, secure, responsibly led social drinking environment in all licensed premises throughout the UK and thereby reduce alcohol-related crime.
Pubwatch enables licensees to take collective action to ban troublemakers, while promoting effective working relations between licensees, the police, and local authorities.
'We are really pleased to support the new Pubwatch and we have been working with a range of licensees who are keen to get involved and make use of the new Disc app,' said Alex.
'Having a well-run Pubwatch in the town is going to make it a safer place and a better place for people to visit and enjoy themselves.'
The Pubwatch is mainly focused in Kidderminster town centre but is also open to venues who fall outside the BID area.
Kidderminster BID has secured funding from Safer Wyre Forest which is part of the North Worcestershire Community Safety Partnership.
The funding will cover the cost of Disc for six months. Disc is an information-sharing system. It enables BIDs, local businesses and police forces to coordinate effectively and reduce the amount of low level crime and anti-social behaviour in the town.
Kidderminster BID is also working with a security company to contract two part time loss prevention officers in response to town centre businesses reporting loss of stock.
Alex said: 'It is important that we are responding to the needs of our levy payers. We also coordinate the multi-agency group 'Cleaner, Safer Kidderminster.' It's chaired by the local Police Inspector David King and enables us to bring together a range of local stakeholders including the town's shopping centres, Wyre Forest District Council, Worcestershire Regulatory Services, WFDC Homeless Outreach, Kidderminster and District Youth Trust (KDYT) and the Street Pastors.
'I'm proud of our town. We have a good mix of leisure, retail, hospitality, culture, and heritage. We are keen to encourage people to visit who may not be making the most of what we have to offer, and we want them to really enjoy themselves when they are here.'