Faces of Kidderminster – John Beard Tools & Ironmongery
John Beard has been a well-known face in Kidderminster for decades.
He set up John Beard Tools & Ironmongery in 1977, along with his wife Beryl. And it is still going strong.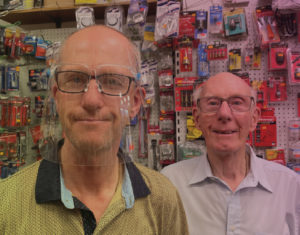 John grew up in Kidderminster and went to Lea Street First and Sladen Secondary schools as a boy.
He went straight into the ironmongery trade when he left school at 15 and was employed by a local hardware store. He then became a sales representative before setting up his own business.
The traditional family run shop, in Bridge St has been providing builders contractors, repairmen, and private homeowners with quality products and expert services for years.
The stock is vast, everything from buckets and bins, to screwdrivers, spanners, locks, hinges, spades, can openers, knives, and hoses.
As well as traditional tools and ironmongery the shop has a wide range of home essentials. They also specialise in key cutting, trophies, medals, pet tags and engraving.
We are a friendly business, and we provide good customer service,' said John.
'Whatever business you're in, you've got to know what you're selling and buying.
'We have regular customers and many of them have been coming for years. We appreciate their business. A lot of them are friends now. If they are passing and don't need anything they will still pop in and have a quick chat.'
John's business won national recognition in 1998 when it earned the Government Consumers First Award. There were 500 nominations across the UK.
His sons Melvyn, Alan and Andrew are all in the business too.
John is a lifelong supporter of Kidderminster Harriers and is also interested in classic cars.
'I was born in Kidderminster and I know a lot of people,' he said. 'It's a nice place to live and have a business. People in the town are very friendly and there is a good sense of community.
'My family and I are proud of the service that we have been able to provide for the town.'
John is pictured with his son Alan