Kidderminster: A Great Place to Have Fun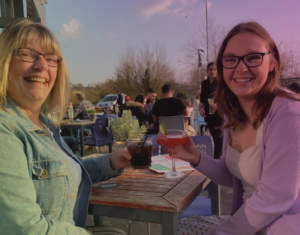 Kidderminster is brimming full of pubs with character from traditional locals to some new bars that are creating a real buzz. There are award winning pubs on your doorstep, right in the heart of the town centre. And there are some great venues for music lovers too.
Kidderminster Business Improvement District is keen to support them. The BID has worked hard to establish a new Pubwatch in the town. Manager Alex Powell said: 'We want to encourage people to recognise the fantastic venues we have in town and to really enjoy themselves when they are here.'
Hundreds of people came together recently to witness the unveiling of a blue plaque in honour of a legendary music venue. The Market Tavern saw acts like Radiohead, Catatonia and Robert Plant take to its stage in the 90s.
The plaque was unveiled by Jim Bob, of indie group Carter the Unstoppable Sex Machine, who performed at the venue. Music promoter Mark Badgeman started a crowd funder for the plaque last year. A concert, which was completely sold out, was held at new Kidderminster venue 45 Live in the evening.
Premier entertainment venue 45 Live in Oxford Street is a great place to watch live music and discover new and upcoming local bands.

They offer live music, fantastic tributes, cover bands, original acts, DJs, comedy nights, and more.
Kidderminster Town Hall, in the heart of the town, is home to a wide variety of concerts and events. One of their April events is Queen's Greatest Hits Tour, live in concert, performed by The Bohemians on Friday April 15th.
Some of Kidderminster's great pubs include:
The Bear and Wolf, Worcester Street.
This pub has received a prestigious award from members of the Wyre Forest Branch of CAMRA (Campaign for Real Ale).
The group votes each season to determine the best local establishment and have named The Bear and Wolf as its 'Pub of the Season Winter 2021/22.'
The micro pub sells a variety of ales, ciders, spirits, and wines. It opened in 2019 and has become an established part of Kidderminster's pub scene.
The Bear and Wolf features regular live music.
Pennies Pub & Restaurant, Bull Ring.
Pennies is a large venue in the heart of the town centre, it offers pub food throughout the day including roast dinners, also available on Just Eat. Known for its entertainment and live music, Pennies also host a small arcade area, karaoke, and bingo nights.
Beer Emporium, Oxford Street
The Beer Emporium offers a wide selection of brews from around the country. There are a range of over 100 craft beers and great wine.
It's in this year's CAMRA Good Beer Guide, it was also named local CAMRA Gold Cider Pub of The Year for two years running in 2019 and 2020.
Ye Olde Seven Stars, Coventry Street.
This is one of Kidderminster's oldest traditional ale houses, renowned for its live music events and great real ales. The landlord invites customers to bring their own food if they wish to, enjoy a drink and they'll clear up afterwards.
Ye Old Seven Stars has also made it into the latest edition of the Campaign for Real Ale (CAMRA) Good Beer Guide.
The Red Man, Blackwell Street.
This family-friendly pub in the heart of Kidderminster has a wide draught selection and regular live entertainment. It also has a play area at the rear and freshly made cobs.
The Swan, Vicar Street.
This is one of the oldest pubs in Kidderminster town centre and serves home cooked food and a selection of national and local real ales.

The Swan also offers fantastic evening entertainment with DJs at the weekend.
The Boars Head, Worcester Street.
The Boars Head is another great pub, renowned for its live music scene. It offers a friendly welcome and regular live music playing everything from heavy rock and metal to northern soul and Motown nights.
Along with all of our great town centre pubs, new burger joint 89th Street at the Bull Ring also serves cocktails. Alternatively, for a pretty location on the Stour, Riverside restaurants serve a wide variety of drinks. You'll find everything from classic cocktails to alcohol-free mocktails at Wall 2 Wall, Bistrot Pierre and Tappeto Lounge.