Kidderminster Bounces Back
Kidderminster Business Improvement District is urging people to shop local and continue to support local businesses as the town recovers from the effects of pandemic. There are already positive signs of a bounce back.
Kidderminster BID Manager Alex Powell said: 'Research from Geolytix has shown that Kidderminster town centre recovery following the re-opening of non-essential retail has been very strong and has recovered to 70% of previous levels over the last two weeks.
'It has been great to see life returning to Kidderminster, particularly on sunny days. The town has been buzzing again with people shopping and enjoying outdoor hospitality.
'We are currently working towards environmental improvements so it's a better place for both investors and visitors to the town centre.'
Plans include improving the appearance of the town with floral displays this summer in several new locations including the Bullring, and alongside Riverside Walk restaurants overlooking the River Stour.
Wildflowers will be planted in the Comberton Hill to town centre underpass and also floral planting will be extended into areas not usually covered including Worcester St and Oxford St.
The BID has also funded and established a partnership working with Kidderminster College art students and community group Horsefair and Proud to transform the Blackwell Street underpass into the town centre.
'We are delighted to welcome people back to Kidderminster, said Alex. 'It is a great town with a strong sense of community and so much to offer.
'We would like to encourage people to shop local, eat local and spend local whenever they can to support the local economy.'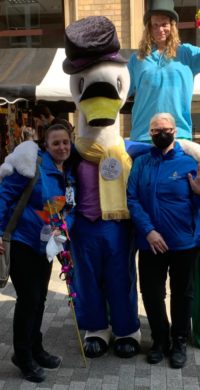 To celebrate the reopening of the high street, Sammy the Swan, the Swan Centre mascot, has been out and about enjoying the sunshine. Shoppers have also been entertained by a stilt walker. He used a magical fishing net to hand out duck, swan, and goose food, sourced from a local market stall to encourage shoppers to enjoy the town centre waterways.
The town has welcomed a number of new business. They include Geek Retreat, Burger Bros, 100% Aesthetics & Beauty Academy, The Hyde Brow & Beauty Bar and Sterling Square in the Bull Ring.  There are also other new businesses who are planning to open in the near future, including 89th Street restaurant at the Bull Ring and TruGym at Weavers Wharf.