Have Spooktacular fun in Kidderminster town centre this half term! Join this free pumpkin trail across the town centre for all the family to get involved in, from Saturday 23rd to Sunday 31st October 2021.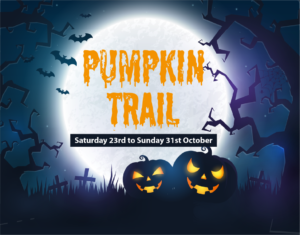 How does it work?
Thirteen Halloween stickers can be collected from the shops as you follow the simple trail clues to find thirteen pumpkins around town.
Be in it to win it! Pick up an entry form from one of three locations:
• The Entertainer toy shop (Swan Shopping Centre)
• Café Pacifico (Rowland Hill centre)
• Grape Tree (Weavers Mall).
Once you've found the pumpkins and collected the stickers, you will need to fill in the entry form and pop it in the Halloween post box outside The Entertainer to be in for a TREAT. From here, you will be automatically entered into our prize draw and the winners will be contacted on Monday 1st November 2021.
Get ready for a fun packed weekend and get the family excited for this entertaining Halloween pumpkin trail, that's coming to Kidderminster!
Click the button below to download and print our pumpkin trail flyer to use over the course of the week.