Whether you are looking to eat and drink, explore local heritage, have fun with the family or listen to live music, there's plenty of things to do in Kidderminster this autumn.
For the October half term, the BID team have been organising some Halloween inspired fun in the town centre. The children's spooky trail will weave its way around pedestrianised areas, taking in local businesses who are part of the trail. There will be free stickers to collect and treats for those who complete the trail and a prize draw at the start of November. Keep an eye on the BID's social media for more detail in the coming weeks.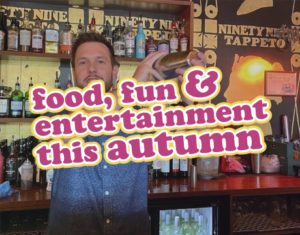 We are excited about the the opening of the Lume Cinema and the announcement of their film listings, including the new James Bond film and a range of classics for Halloween season.
'There's plenty for people to enjoy in Kidderminster and it's a great place to spend your leisure time' said Kidderminster Business Improvement Manager Alex Powell.
New live music venue 45 Live have some fantastic bands scheduled for October and November, whether you're into the 80's, 90's or noughties the venue is attracting some popular tribute bands including UB40, the Police, The Smiths and 90's Britpop.
When it comes to food and drink there's no need to travel far to sample food from around the world. Kidderminster has a mouth watering array of interesting restaurants. For those who love Italy there's Italian restaurant Love Food Italia in New Road. It has an excellent local reputation, and we thoroughly recommend you pay a visit if you haven't already.
Baan Thai offers authentic Thai dishes. Ann, the chef and owner, started cooking by learning her mum's recipes.
Chef's kitchen in Lower Mill Street offers delicious Indian and Nepalese cuisine. It's located next to La Brasserie, firmly established as one of the best places to eat in the town.
Bistrot Pierre is a spacious French restaurant overlooking the River Stour. The stylish bistrot offers a relaxing place to enjoy affordable French-style dishes, freshly prepared by their chefs every day. Whether you're on a shopping trip, lunching with friends, fancy a relaxed family meal, or having a celebratory dinner, the bistrot is the perfect place to eat in Kidderminster.
Tappeto Lounge also overlooks the River Stour. It's light and airy with a lovely riverside terrace and serves a great range of food and drinks in a welcoming, laid back, eclectic big space.
Wall 2 Wall on Riverside Walk serves mouth watering Indian food and has a breath taking interior. They serve a selection of authentic and mouth-watering tapas style dishes. They also offer meat and vegetarian curry bowls. If you are not in the mood for an Indian, a great selection of handmade pizzas is available. The venue offers one of the largest cocktail menus in Worcestershire, alongside a wide selection of beers and ciders.
Looking ahead to the winter months, the BID are involved in an exciting project with Kidderminster Town Hall who have secured grant funding towards creating a Cultural Action Zone in the town. There will be a town centre trail over winter that will include illuminated buildings and 'selfie spots' dotted throughout the town. Follow Kidderminster Town Hall and Kidderminster BID on social media as more detail is released in the coming weeks.
'Kidderminster offers a warm welcome and is a fantastic place to unwind and have fun,' said Alex. 'It has something for all ages. I'm proud of everything that the town has to offer.'