Kidderminster BID welcomes new manager, Alexandra Powell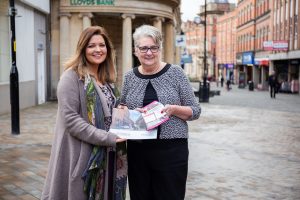 The local Business Improvement District (BID) has announced the appointment of a new BID Manager today (Tuesday 10 March).
Alexandra Powell, who lives in Kidderminster, has taken on the role which will see her join the company on 16 March 2020.
Alexandra brings a wealth of experience having previously worked as a Neighbourhood Manager. She established a Neighbourhood Management Board which was the catalyst for improvements to the locality.
She will start at an exciting time for investment into the town and wants to use her strong background in project management and working with business communities to operate the BID.
Alexandra said: "I am delighted to be given the opportunity to deliver Kidderminster BID's proposals.
"As a local resident, I am hugely passionate about engaging with local businesses and helping them have a say in how the town can be improved. Investment in the town centre has already had an enormous impact and I am looking forward to building on the successes already achieved."
Rosalyn Darby, Kidderminster BID chairperson, added: "We are thrilled that Alexandra has accepted the position. The board is looking forward to working alongside her for the foreseeable future on the projects highlighted by the levy payers in consultation."
Councillor Fran Oborski, Wyre Forest District Council's Cabinet Member for Economic Regeneration, Planning and Capital Investments, said: "Following the successful BID outcome last year, we are delighted a BID manager has now been appointed to move it forward.
"With a number of new developments in and around the town centre in the pipeline, it is an exciting time to launch the BID and appoint a manager to deliver its programme.
"We are confident with the involvement of the local businesses, the BID will help make Kidderminster a vibrant place for shoppers and visitors, as well as a place where businesses can thrive."
The BID manager's role involves working with local businesses in the BID area to deliver agreed projects and services. The BID company is required to keep the businesses that pay the BID levy and all stakeholders informed of current progress and developments.
Alexandra will provide support to the BID Board, its database management, ballot operations and the implementation of a process driven environment.