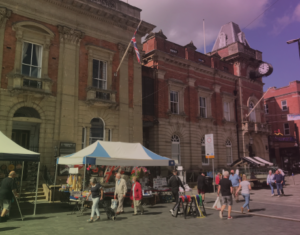 We would like to thank town centre businesses for the input and support you've provided across the year to help Kidderminster BID succeed. We've watched the business community grow and connect and this is something we want to build on in the coming year. Making the town centre more safe and secure is having a positive impact. Our town centre trails have been huge successes and we are very appreciative of local businesses for making Easter, Halloween and Christmas fun for families and children.
Year 2 of the BID has run in parallel with the Covid-19 pandemic but it has not stopped the BID team from delivering throughout the year. Key achievements have included:
 Listening and responding to our levy payers. A survey was carried out in summer 2021 and as a result of that, two loss prevention officers have been contracted to provide a dedicated security response to BID businesses. The BID also runs KBID town security messaging group with over 80 levy payers utilising the service.


The promotion of covid-safe initiatives to increase footfall safely including:
April – Easter Egg hunt and art competition to increase footfall
August – Kiddy Proud event 'Music, Stalls & Dance' in the town centre
October – Pumpkin trail and special offers
December – Santa Scavenger Hunt around the town centre. A new Christmas tree in the town centre in partnership with Kidderminster Town Council


Establishment of a new Kidderminster Pubwatch and the use of DISC secure app.


The co-ordination of 'Cleaner, Safer Kidderminster' multi-agency group including the Police Inspector (Chair) Worcs Regulatory Services, Wyre Forest District Council, homeless outreach team, Street Pastors and Kidderminster and District Youth Trust.


Development of four social media platforms promoting town centre businesses.


Monthly advertorial content in the Shuttle newspaper, our website and social media, including 'The Faces of Kidderminster' promoting local businesses.


Floral displays across the town centre including the Bull Ring roundabout, Worcester St, Comberton Hill underpass wildflowers and Riverside barrier baskets.


A new mural in the Horsefair underpass bringing together local students and community artists.


Covid grants – BID staff have supported with grant applications and advocated for businesses who were struggling to access financial support.


Catastrophic Bleed Training for Pubwatch members and key town centre personnel
With the successes of year 2 we are looking forward to collaborating with local Kidderminster businesses to continue making the town more safe, secure and exciting.