Vibrant New Mural Transforms the Horsefair Underpass
Kidderminster Business Improvement District has teamed up with students and artists to transform the Horsefair Underpass. 
The new mural in the underpass was funded by Kidderminster BID as part of a plan to improve gateways to the town.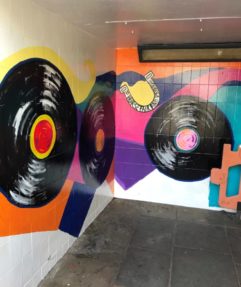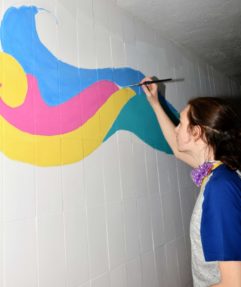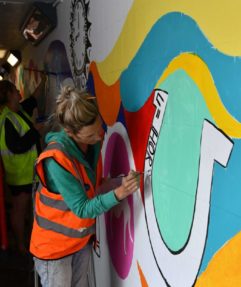 The project has involved art students from Kidderminster College, artists Kate Cox (Clik Clik Collective) and Sarah Edwards (Spare Room Arts), and community group Horsefair and Proud.
Kidderminster BID Manager Alex Powell said: 'We were aware that the underpass was frequently used by pedestrians but was in poor condition.
'We wanted to transform it into a brighter, more appealing place where people can feel safer and also appreciate the Horsefair and its history and importance to Kidderminster.'
The mural took two days to complete and was inspired by some of the most important landmarks in this historic area, once famous as the Horse Fair for buying and selling horses. It includes images inspired by The Old Peacock Inn, The Weavers' Cottages, The Empire Cinema, Mr Tee Records and Alf Tabb who had a bike workshop in The Horsefair and was famous for engineering and riding the world's smallest bicycle. Twelve students took part in the design and painting process.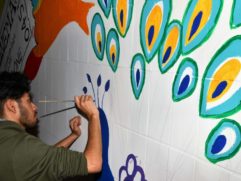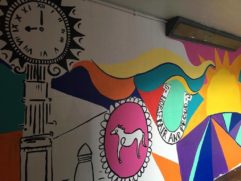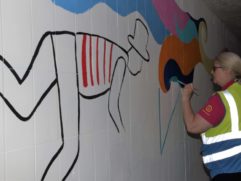 'The mural is bright and vibrant,' said Alex. 'I'm really impressed with what the young people wanted to include and the way the artists have captured the relevance and importance of the Horsefair. It's fantastic.
'I hope it helps visitors and local people to enjoy the walk from The Horsefair into the town centre.
'We want to make people feel safer and to make the town centre more visually appealing and inviting.'
For further information please contact:
Alex Powell
Mobile:  +44 (0)7842 894198
Email:  Alex@kidderminsterbid.co.uk